These days I'm loving Chinese screens. My girlfriend J has this gorgeous Chinese screen she picked up a while ago and it blows me away. I love the scale, colour and presence of the piece. It is a refreshing piece of art that is striking in so many ways. It can make such a statement with its texture and depth. I really want one and must begin my hunt for an affordable one. Not sure where I would put it but when has that ever stopped me? I mean even if I had one just leaning against a wall waiting for a permanent home I know it would still look outstanding. Have a looksy below for some great examples. Any of you feeling some of this lattice love?
J's gorgeous screen gracing her hallway. This picture does not do it justice, it is fab and the intricate wood carving in the middle is striking. Image via J.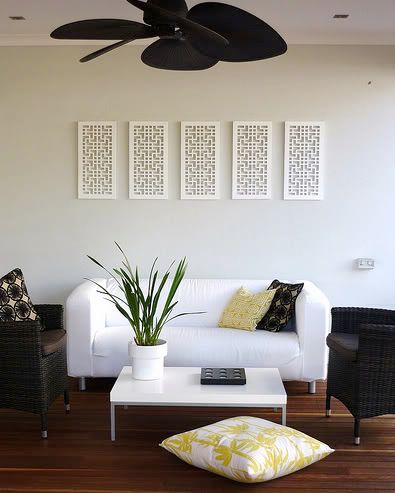 Light & bright screens arranged together as art. Personally, I think they are placed to high, but I like the texture they add to the wall. Image via
rearranged design
Gorgeous. I want this one. I love all the competing patterns. Image via
asian art
Breathtaking. I could live here. Image via
here.