I need a big piece of art people. A few weeks ago hubby & I moved our living room art into the
kitchen
as it was a better fit. As a result our living room looks like this now.
Empty. I know its not the end of the world (ya, sis I hear you even over the Internet) but it is seriously bothering me. Sorry for the crooked shot. Image via me.
So its driving me insane. I hate that wall (well the whole room now) because of that large gap. Herein lies the problem. I want a big piece of framed art but I can't afford to spend thousands of dollars on it. Sure I can try to DIY it, but I don't wanna. Yes I can make a gallery wall...but I don't want to do that either. Do I sound like a whining child yet? I've tried the Homesense & Winner's options but have found nothing. I've called up Art Interiors..but they practically laughed at my budget (only a few hundred dollars) and my size requirements (ok they didn't really laugh, but offered some smaller options). Why is it so hard to find something affordable that looks like this? Why, why, please somebody tell me why?
We've all seen Carrie & Big's condo in SATC 2...see this looks good? Image via
Decorpad.
Okay a little big for my space...I want about 56x48...but you catch my drift right? Image via
Yatzer.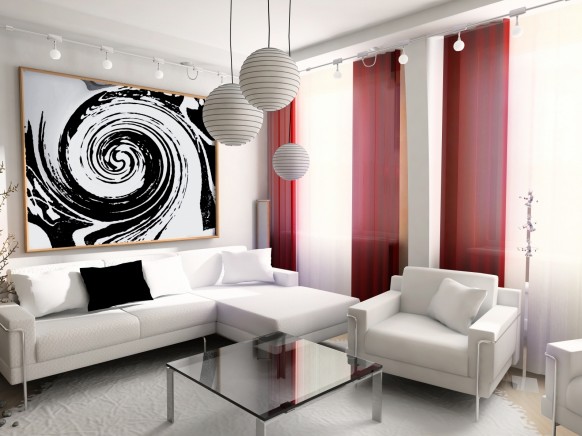 Maybe a graphic punch is all I need. This is more what I'm looking for...black and white in a birch frame....image via
here.
Yep, I'm leaning toward black and white. Oversized art featured on Canadian
House & Home.
This is it! I want it, I want and I want it! (just pretend I am stomping my feet or something for a more dramatic effect). Sorry this one was in my dream house folder and I lost the reference. Oh well, I guess enough sulking like a baby and time to find a REAL solution...if anyone has any suggestions let me know.